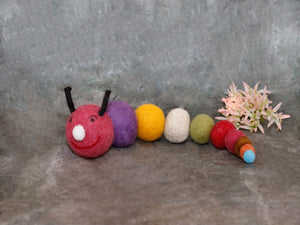 Sunbula
Caterpillar- natural sheep wool
Regular price
$220.00
$220.00
Tax included.
Made with natural sheep wool from Bethlehem. Approximate size length 16 x Head  2,1/2 inch.
Who made this product: Sunbula

Faced with the challenge of feeding a family in situations of uncertain economics and security, the women of Palestine often cannot find dignified means of earning and instead remain mired in poor living conditions. The women often have excellent talents in traditional craftwork, but do not know how to turn that into income. Sunbula, a local organisation, works alongside such groups of women or the disabled to help them learn administration skills and get access to the world market. Each product is made by hand and keeps with Palestinian tradition, a rich heritage extending through the millennia. Your purchase enables these people to support themselves and their families with dignity while preserving their native culture.
---
More from this collection