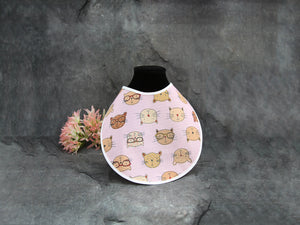 Tamar Center Pattaya
"Baby Bib" Cats Design
Regular price
$50.00
Sale price
$65.00
Tax included.
W 10,1/4x From Neck 7 inches
Who made this product: Tamar Center Pattaya

When Nella visited Pattaya, Thailand in 1995, she was heartbroken by the hundreds of women enslaved by prostitution in the red light districts. She couldn't walk away from Pattaya and allow the women to remain trapped in the sex industry. So in 1999, Nella founded the Tamar Center to offer hope, healing and a new life to the bar girls in Pattaya. They offer English classes, pregnancy counselling and vocational training, then graduates can employ their newfound skills at the Tamar Center's café and restaurant, salon, childcare services or artisan shop. By purchasing this card, you are supporting women rescued from prostitution and providing them with an income to support their families.
---
More from this collection