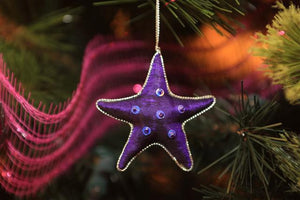 Export Service Centre Cambodia
Ornament - Purple Star
Regular price
$20.00
Sale price
$30.00
Tax included.
Silk star ornament in purple, handmade in Cambodia.
Who made this product: Export Service Centre Cambodia
After decades of violent warfare, Cambodia and its people are on the long road to recovery. Thanks to their resilience and help from the world community, Cambodia's poverty levels have dramatically improved, but 1 in 5 are still living below the poverty line, with still more struggling with low standards of living in rural areas. In an effort to provide support for many young rural and urban Cambodians, Export Service Centre works alongside local workshops where people draw on their rich culture to design products reflective of a long and distinct heritage. Workers receive fair wages in decent working conditions, along with training workshops on life skills.
---
More from this collection