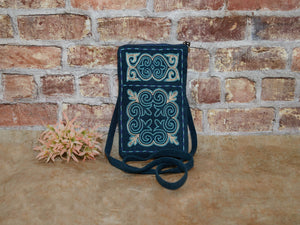 Mary & Martha
Document bag Blue
Regular price
$200.00
$0.00
Tax included.
Approx:Size H8,3/4x6 inches.strap 51 inches
Who made this product: Mary & Martha

In Mongolia's capital city of Ulaanbaatar, those struck by poverty seek shelter in the city's heating and water systems below the streets. They emerge occasionally to pick through garbage heaps above for food, and some will scavenge for plastic or glass to sell to scrape a meal together. Mary and Martha Mongolia formed to offer relief to the poor by providing them with a place to live and a chance to learn marketable trade skills. The pioneering organisation trains these people to create handicrafts based on traditional materials and techniques which they can then sell to support themselves and their families. Each purchase allows this work to continue, bringing renewed dignity and hope to the poor.
---
More from this collection