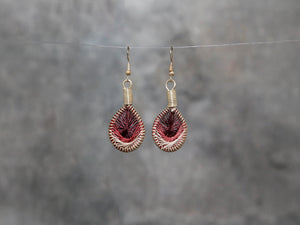 Drop Earrings not Bombs
Earrings Zeina1.5x3cm
Regular price
$210.00
$0.00
Tax included.
Size:1.5x3cm 
hypoallergenic hooks.100% handmade layered with Turkish cotton mercerized thread.
Who made this product: Drop Earrings Not Bombs

Drop Earrings Not Bombs showcases the handiwork of refugee women in Istanbul. Meeting to share their stories, griefs, joys and challenges, they create this beautiful jewellery together as a way to learn new skills and earn extra income for their families. "When I am immersed in whites and blues and making these earrings, I just forget all my troubles and focus on a better future," says Farida, a refugee from Syria. Your purchase of these earrings helps refugee women as they seek to heal from trauma and support their families.
---
More from this collection