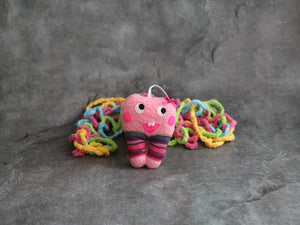 UPAVIM Crafts
Hanging tooth fairy bag pink
Regular price
$60.00
$0.00
Tax included.
 With pocket in the back for teeth or money to help tooth Fairy. (Fair Trade Certified)
Who made this product: UPAVIM

UPAVIM is an organisation that empowers Guatemalan women in marginalised communities. The women who work with UPAVIM come from places of desperation – whether abandoned by their husbands, battling alcoholism in their families, suffering domestic violence, or all three – but what they find is a haven of support, education, new opportunities and the dignity of being self-sufficient. There's childcare for their children while they work, healthcare and programmes for professional and personal development. Made up of 75 women from communities in Southern Guatemala, they create beautiful handicrafts from fabrics with traditional local colours and patterns. Your purchase helps Guatemalan women thrive, become independent and support their families.
---
More from this collection