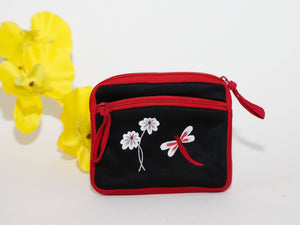 China Ethnic Crafts(Hunan Ethnic Crafts)
Multi-Pocket w/Flowers, dragonfly
Regular price
$180.00
$180.00
Tax included.
 inside features 4 slip-in pockets, zippered pocket, outside  an easy  access pocket for small items.Size: 15 x 11 x 2 cm 
79g
Who made this product: Hunan Ethnic Crafts

The stunning, traditionally embroidered products from Hunan Ethnic Crafts are made in a part of China that is one of the poorest and most isolated in the country. Women from the Miao ethnic group use silk threads that have been grown, spun and hand-dyed in a nearby Miao village, to make what has come to be known as Antique Miao Cloth, named for its traditional patterns that Miao women have been embroidering for generations. Through their employment with Hunan Ethnic Crafts, the women set their own price for the handicrafts they create, which means they are not exploited for their labour. They are able to work at home in their familiar rural environment, but to make a steady, supplemental income for themselves and their families - an income that can literally be the difference between sending their children to school or not.
---
More from this collection