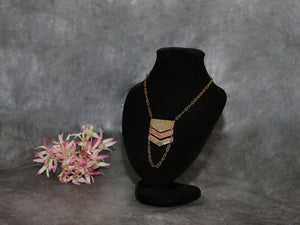 Basha Enterprises Ltd
NecklaceChevron
Regular price
$110.00
$0.00
Tax included.
30 inches..pendent 1,1/2x  1,1/2 Legnth is down to the point of the pendent.
Brass/Copper can be cleaned with lemon juice and rinsing and pat drying Or with a drop Brasso polish.
Who made this product: Basha
The founder of Basha knew she had to do something when she met women living on train stations in Bangladesh, selling their bodies to survive. Today, Basha is part of a long-term programme whereby women can leave the sex industry and access education, medical support, counselling, and finally employment making beautiful jewellery which is sold all over the world. Each purchase of Basha jewellery means you're supporting a woman in Bangladesh who now has an alternative source of income to the trauma and degradation of working in the sex industry. In the Bengali language, 'basha' means house and 'asha' means hope. Committed to Fair Trade principles, they are truly building a 'house of hope' for women – many of them mothers - escaping trafficking and sex work.
---
More from this collection