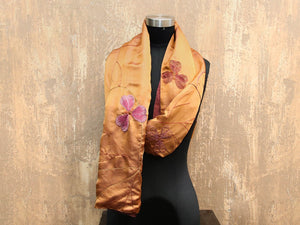 Vinh Hoa
Scarf-Frivole,Purple 40cm wide
Regular price
$600.00
$0.00
Tax included.
Hand-finished silk scarf embroidered ; made in Hue, the artistic capital of Vietnam (200 x 40 cm)
Who made this product: Vinh Hoa

The Vietnamese city of Hue has, for centuries, been the nation's centre of culture and artistic inspiration. It is still home to many traditional artists and craftspeople, who have maintained their incredible talents even through years of war and unrest. These days, however, economic development in Vietnam has centred around the major cities in the North and South, and many traditional artists in Hue are suffering poverty and unemployment. Vinh Hoa is an organisation helping artists use their talents in effective, marketable ways, so that they can support themselves. They also make it a priority to invest in good working conditions for its staff. This handcrafted item has been produced by one of the artists working with Vinh Hoa. Thank you for supporting their valuable work!