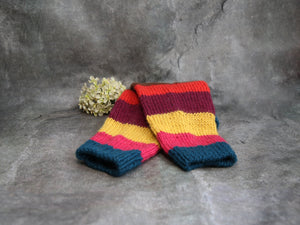 SERRV International
Stripped Outdoor Leg Warmers
Regular price
$200.00
Sale price
$250.00
Tax included.
Hand dyed and hand knit from 100% wool.
Created by:
Kumbeshwar Technical School
The founder of Kumbeshwar Technical School (KTS) was concerned about the poverty and class discrimination he saw in his neighborhood in the Kathmandu Valley, where members of lower castes were often discriminated against or given few opportunities. He had a different vision: opportunities for all. He made a commitment to share what he had with his neighbors, many of whom were low-income street sweepers, rickshaw drivers, or day laborers, and he built a school to assist socially and economically deprived children.
Over the past 25 years, the Kumbeshwar Technical School has steadily grown, and now has a day care, nursery and primary school, home for homeless children, and vocational training program. These programs focus on providing education and training to low income families to empower the local community to take responsibility for themselves and their future.
KTS' vocational training program provides opportunities to underprivileged youth, women, and disabled people with limited schooling to learn useful trades. The program has resulted in hundreds of graduates being able to find employment. Trainees are provided with free training courses in wool spinning and knitting, carpet weaving and carpentry. Graduates from the program are offered employment in KTS' production units where they can use their newly learned skills to earn a livelihood. Steady work throughout the year helps hundreds of artisans meet their day to day needs, reducing poverty in the area.
Sales of products are reinvested in KTS' social programs, providing a source of economic strength to keep the education and training programs self-sustainable. We feel good about supporting the valuable work of KTS through the sales of their rugs and knitwear and to be part of the circle that benefits the lives of people in Nepal.
17 inches 
Who made this product: Serrv International

Through their work with 90 community-based organisations in 34 countries, SERRV gives thousands of disadvantaged people the opportunity to sell their products so they can support themselves. Thank you for your purchase, which will have a direct impact on the life of the artisan and their family.
---
More from this collection