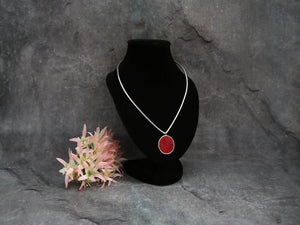 Tintsaba
Simplicity Silver Necklace with Red Pendant
Regular price
$170.00
Sale price
$200.00
Tax included.
Strikingly simple, this necklace of solid silver has a pendant made of dyed red woven sisal grass mounted in silver, handmade by women in Swaziland.Fair Trade Certified
Who made this product: Tintsaba

Tintsaba products are made in eSwatini (former Swaziland), a tiny land-locked country in southern Africa. It's a place of majestic beauty, but where poverty has its grip on the population. Only 36% of people attend high school, and around 40% of eSwatini's population is HIV-positive. Tintsaba is helping to make a difference by improving the lives of rural women in eSwatini. The jewelry they produce uses a local plant called sisal, which is harvested with minimal environmental impact and processed using very little water and no chemicals. The women who make Tintsaba's jewellery are trained to become master weavers, silversmiths or managers, giving them the chance to lift themselves and their families out of poverty.
---
More from this collection